I was asked not long ago if my vintage Canterbury rugby shirt was by Martine Rose, the popular British designer who is known to incorporate sports jerseys into most of her collections. Rugby shirts—for the most part a timeless menswear staple—are having yet another moment. For FW19, U.K. menswear designer Daniel W. Fletcher sent his interpretation down the runway in maroon and red, with two additional buttons added at the collar. Jil Sandercreated the illusion of a rugby with a striped silk top layered over a white collared shirt. Rugbies are part of the brand DNA at David Beckham's label Kent and Curwen, FW19 saw his version labeled with his signature English rose patch. Loewe added length, taking their rugbies down to the knees. The mutation of a classic. Rugby stripes were applied to a fleece bomber at Marni, layered over a light jacket, it's hood fitting tightly around the skull, adorned with fleece patches over the ears, resembling a scrum cap. Noah (always), Rowing Blazers (always), Thom Browne, The North Face Purple Label, Cav Empt, Palace x Polo Ralph Lauren. The list goes on—there is no shortage of players right now.
The rugby shirt is a close cousin to the polo shirt, but usually differentiated by a thicker collar, a rubber button, and wide, horizontal stripes. Green, white, and orange for the Australian Wallabies. Red and white for England. Baby blue and white for Argentina. The potential stripe arrangements and widths—or "hoops" in rugby terms—are infinite. It's British artist David Hockney's shirt of choice—his personal style pairing playfully with his work. The colorful, segmented landscape in his Pacific Coast Highway and Santa Monica, for example.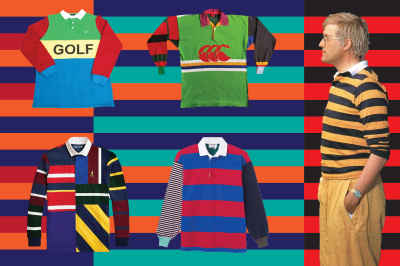 Folklore has it that rugby was first invented in England in 1823. It's seen many permutations since, and is now split into two leagues and two governing bodies, the Rugby Union under World Rugby, and the Rugby League under the Rugby League International Federation. There are the avid fans, the traditions, the institutional racism—like all other major sports organizations. But rugby is a game more brutal than football or hockey. There is next to no protective gear. Not even a shin pad or helmet for Virgil Abloh to accessorize on his next Off-White runway. Some quirks: according to the rules, you can only pass the ball backwards. A goal is a humble "try." Music—not your average chant, think fans singing 18th century verses by Romantic poet William Blake in unison—is at the heart of the game. It's logical that such an idiosyncratic game would have such a memorable uniform.
Sometimes when you love a garment so much and it starts trending, you're faced with the feeling that you need to let it go. It used to mean standing out, but now, will it equal fitting in? Does it matter? A rugby shirt is the best garment to do both—stand out, and fit in. Teamwork may be central to the sport, but the stripes of its uniform are used to individualize. They set neighboring clubs apart, providing their own ID while symbolizing lifelong unity with one's crew, a sense of belonging. A patchwork rugby shirt is often made out of the recycled scraps of other shirts, fusing the colors and stripes of multiple designs into a harmonious, one-of-one style. Canterbury of New Zealand calls them "Ugly Jerseys", Rowing Blazers calls them "End-Of-The-Day Rugbies". It's not common for sport aesthetics to embrace this type of fusion (sustainability, even!). Among the most significant events in sports history is Nelson Mandela's choice to wear a Springboks rugby jersey to attend the 1995 Rugby World Cup finals in South Africa, a landmark gesture credited for playing a major role in uniting the country after the darkest days of Apartheid. A rugby shirt says a lot, but nothing more so, maybe, than resilience. Few garments today are built as tough.